聲明 Declarations: 本網站特別為香港霎哈嘉瑜伽中心 "較穩定" 的成員架設 - 內容對初來參加活動者或公眾未必合適。
This site is specially constructed for those "stable practitioners" of Sahaja Yoga Hong Kong Sanga (Collectivity), some parts of the content may not suit new-comers/ outsiders
Last update: 2007.4.7
---
連結(中英雙語) Cool Links ( bilingual)
音樂連結 Music Links:
俄羅斯的霎哈嘉瑜伽網頁儲存了 "頂輪咒文"
的讚歌,是錫呂瑪塔吉親自傳授的,可以幫你入靜及打開頂輪

技術可能的話自行燒錄在光碟上便可每日享用 (380KB)。"The Three Great Mantras" ( MahaMantra of the Sahasrara Chakra as revealed by Shri Mataji ) is a good tool for opening the last Chakra and meditation, as archived in the Russian Sahaja Yoga web site.

 
Sahaja Yoga Music (Sahaja Yoga Canada ) [with good links to other Sahaja bhajans / vocal mantra sites ]加拿大霎哈嘉瑜伽音樂頁
MP3.com listing- "Sahaja Awakening" [ 免費下載試聽及郵購 free download and mail order ]
霎哈嘉喚醒

(七輪咒文獨唱)CD


"...These vocal Mantras are a powerful and gentle aid to meditation, and are based on the seven core musical frequencies derived from the ancient sounds of nature. These notes correspond directly to the innate frequency or vibration of our own Chakras, and so by listening to them we help balance and heal our subtle system." 〔得原唱者授權在香港霎哈嘉瑜伽中心複製及義賣籌款,並附中英對照CD說明頁,已載於中文通訊12期。Sahaja Yoga HK is authorized by original singer Derby Eckman to duplicate and sell the CD in HK for fundraising purpose, with cover description made bilingual in both English and Chinese ]
Enlightened Music - "Music is a divine vehicle..." (Sahaja Yoga International)
Sahaja Yoga International Site: introducing the Academy of Indian Classical Music and Fine Arts at Vaitarna [ Brief Intro with CD order form. The academy originally located at Nagpur , India, now reformed and relocated at Vaitarna ]

Shri P. K. Salve Kala Pratishthan - The Academy at Vaitarna 霎哈嘉瑜伽音樂暨藝術學院
(Official Site: http://www.pksacademy.com (2003) ; student's article as appeared in SWAN 2004 Nov. news )

BBC interviewed Stephen Day, a Sahaja Yoga musician from N. America
(Composer, producer, vocalist, classical guitarist, drum player;
Sarod disciple of Ustad Amjad Ali Khan)
Stephen Day's Personal Site
Introduction to Indian Classical Music (Sahaja Yoga Switzerland )
-- the melodies, ragas "…music itself is a religion " by Chaitanya L. Koppikar (Sitar player, sitar teacher and Disciple of Pandit Arvind Parikh, Pandit Bimalendu Mukherjee, Late Pandit K.G.Ginde)
(http://www.nirmalbhakti.com/e/index.htm)
Nirmal Bhakti (Switzerland-based devotional song lovers) Music Group [ 瑞士霎哈嘉瑜伽拜讚歌團有mp3免費下載試聽 ]
- "The music presented in our programmes is traditional Indian Music, such as classical and light classical pieces, bhajans, abhangs, qawwalis, ghazals, hymns and songs, as well as instrumental pieces (sitar, violin and harmonium)." http://www.nirmalbhakti.com (French. English) - download all songs of last concert in Geneva
Toronto Sahaja Yoga Bhajan Group / Sahaja Yoga & Music Canada ( Ontaio ) 多倫多
"The Awakening of the Kundalini in Sahaja Yoga takes place with the touch of Musical Notes". - Arun Apte
(Sahaja Yoga Canada Ontario Site)
Matt Malley's new personal page- (Bass, guiter, piano, Indian slide guiter) Member of famous rock band "Counting Crows"
"FREEDOM IS WHEN YOU REALLY GET YOUR OWN POWERS WHICH ARE WITHIN YOU"
( nominated for three highly prestigious music industry awards (Oscar, Grammy, Golden Globe) Feb 2005.
Bhajan CDs from Sahaja Yoga Malaysia ( not for sale - for internal circulation only )
new sahaj CD's text "The Announcement" with hip hop music http://www.sahajhiphop.com 霎哈嘉流行音樂說口溜
LA MUSICA DELLA GIOIA - Sahaja Yoga Italian Musical Links(with wonderful MP3 Downloads )霎哈嘉瑜伽拜讚歌及純音樂免費下載 (意大利文, 但網羅多國霎哈嘉練習者作品 mp3 )
台灣霎哈嘉瑜珈音樂欣賞 - 剪輯了澳洲及英國練習者的拜贊歌 (Sahaja Yoga Taiwan - music clips from Australia and UK)
CD Album "Jai Jagdambe Maa" - by Sanjay Talwar ( MP3 format sound clips) http://www.banet.free-online.co.uk/108/english/index4/40d.html (link 40) - Limited stock of the CD available at the Sahaja Yoga Hong Kong Center, some even autographed

, enquiries from local distributors welcome

(少量存貨,部分得Sanjay親筆簽名,請向香港霎哈嘉瑜伽中心查詢,有意商業發行無任歡迎)

There is also a track, lasting almost 7 minutes, of Sanjay's new song "In The Heart Of The World". This was first performed in public in March 2004, during celebrations for Shri Mataji's Birthday in New Delhi. The song was recorded informally with some yogis singing with him at the Hastingwood Ashram in the UK after Guru Puja last year in 2003. (link 41), with lyrics on-line.
Sanjay 叔叔2004年在母親大壽時在德里首次公開獻唱的歌"In The Heart Of The World"可網上聽到,那是他在03年路過英國時與當地霎哈嘉瑜伽練習者用普通錄音機的即興隨緣錄音版本,有照片及歌詞。

2003年12月 初(趁錫呂瑪塔吉以私人身份經港期間在栢寧酒店26樓亞洲澳洲區練習者聚會幻燈片 (背景音樂用了澳洲栢斯拜贊歌團Bhakti唱的"Ganesha Ganesha")Bhajan Gathering among Asian and Australian practitioners on 26th Floor, Parklane Hotel, Hongkong, during Shri Mataji's unofficial stop-over 1-4 Dec 2003 (background music of slide show is "Ganesha Ganesha" from Perth Bhajan Group "Bhakti")
李穎雅Eugena 的自白 Sahaja yogini Eugena Li's self-portrait
烏克蘭霎哈嘉瑜伽拜讚歌免費下載 ( "Sangam" 2004) 〔東歐民歌風格- 可自製成CD 〕 
Bhajan group from Dnipropetrovs'k (Ukraine) made some records.
You can download them from www.realmusic.ru/sangam to make your own CD
http://bhajan.nirmalvihar.info Bhajan web site of Joshua N Pritikin (researcher in cognitive science - centering on the anthropomorphic stance and the evidence from autism research )
"Music of Joy" cassettes officially re-released as double CD (Music of Joy 1 and 2 - performed by the Australian Sahaja Yoga Bhajans group ) in March 2005 in Pune 澳洲霎哈嘉瑜伽 拜讚歌 示範/ 訂購
印度傳統崇拜歌 (aarti),霎哈嘉瑜伽拜讚歌集有一首以此曲改編而成(aarti 4)。 Carl 的個人Blog 以此為背景音樂,   Carl uses the aarti (extended version) as background music of his Blog front page. (Clipped from the CD "Milennium", by IPO)

"Zephyr" - CD/ Music Composed and Produced by Elizabeth Henshaw

Sahaja Yoga - Online Radio http://www.sahajayogaradio.org/ (霎哈嘉網上電台)

Saraswati's Studio (香港練習者育婷的網頁,幾十首不同國家的霎哈嘉瑜伽歌曲不斷播放,好像網上電台一般)- Hongkong Yogini's site with several dozen Sahaja songs from various countries continuously playing as background music as if a on-line radio for you to enjoy.

Sahaj Sangeet - website by Robert Beckerton of Brisbane, Australia

Right Time - Music for Meditation, Yoga, Therapies and Pregnancy

Edwin's personal page about Chimta 侯老師個人網頁: 印度音樂緣- (有關印度樂器 chimpta 的專頁)

Tamil & Telugu Songs ( Sahaja Yoga-Tamil Nadu ) - download & CD for order

Sahaja Yoga Music

非霎哈嘉瑜伽修練者的 音樂連結 Sites NOT Sahaja Yogis (Enlightened music )

Ravi Shankar Foundation - official site of the legendary sitar master Ravi Shankar and his daughter, Anoushka Shankar. http://www.ravishankar.org

On Appreciation of Indian Classical Music
"To us, music can be a spiritual discipline on the path to self-realisation" (by Ravi Shankar)

2. Sultan Khan and ancient India string instrument "sarangi"
3. "Amazon.co.uk"- with many song samples , especially "Allah hoo allah hoo"( 經典首本名曲 )

4. Bhajans download from

"The Official Mahatma Gandhi eArchive & Reference Library

"(甘地網上資料館/印度)拜讚歌下載 (此曲歌頌上天偉大之餘也著墨於萬法歸一,萬教同源,據稱由甘地創作,竟早已在我們霎哈嘉歌集中有收錄 

(Hindi 1b)

,可跟著唱)

http://www.mahatma.org.in/downloads/bhajans/mp3files/raghupati.mp3
This Hymn is sung in praise of Oneness of God and Religion, said to be created by Mahatma Gandhi, and surprisingly has also been included in the Sahaja Yoga Song Book (Hindi 1b), you can sing along.
Powerful projects of the Vishudhi :
Sahajaa Yoga Canada - good resources ( e.g. "The Secret of Life"- something good to send to your friends + Canada weekly radio broadcasts (加拿大 Waterloo 每週電台) ...)
New York Sahaj training materials - originally prepared by the Columbian collective, and was subsequently adopted by the N Y group. There are also beautifully prepared videos to accompany these class materials ( check for regularly updates )
Sahaja Yoga Colorado: Mother's Words, Wisdom ; Leela Game

Wonderful

photo albums

from

March, India 2005,

sent by

Andrei & Cristina, Canada

... including photos from our dear

sahaj School: ISPS School.

Album of Mark (US) on Shri Mataji's visits to America 2005
Yuva Shakti of Brazil- comics, animation & Movies
Story of Aaron (Canada) - advice for child abuse victims (Read - Sahaja yoga has transformed my life), & "Looking after the Temple"
divinesahajayoga in Blogger ( sorry, now reset to the correct main page, just enjoy ! )
Right Time - Music for Meditation, Yoga, Therapies and Pregnancy
Powerful links somewhere else:
"There is another question one should ask, which is very important. That why Mohammad Sahib, who was so much against stone-worshipping, clearly, why did He ask people to go round that black square stone? What was the purpose of that? Why was that stone so important? If you ask this questio n to any so-called Muslim, he'll say that was the order. But you can ask the question after all, why? That's also just a stone. So why did Mohammad Sahib ask that you should go round that stone? So many statues were there, made of stone. And people started worshipping all kinds of statues as they do in India also. But this stone was a Swayambhu. And it is mentioned in the Indian scriptures that there is Mecceshwar Shiva. We have Shivas everywhere in India, there are 12 Jotir Lingas. Now if I tell you, you need not believe me, but you can see and verify on your vibrations if it is a Shiva or not. Same with this black stone.So Mohammad Sahib found out that this is a Mecceshwar Shiva and so the people have to go round to achieve Shiva's blessings. But it became a ritual. The whole thing became like a ritual and nobody could go further from that ritual" (H.H.Shri Mataji,Easter Puja Talk, Istanbul/Turkey, 23 April 2000)
有用旅遊資料 Useful Travel Info
---

更多連結 ? More links ???
Read all 1000 links in Sahaja Yoga ( 1000 全球一千個霎哈嘉大連結 )
---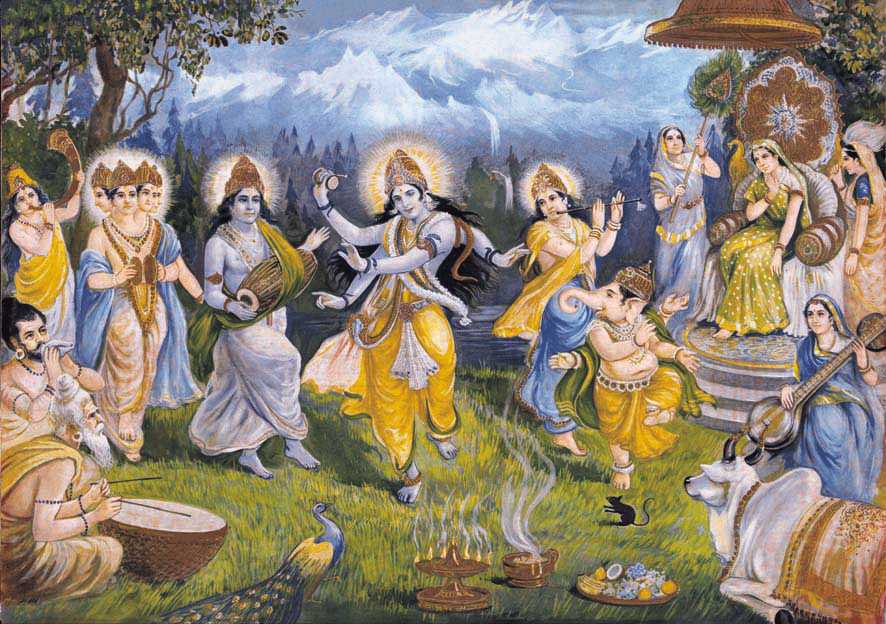 這圖得已故的印度的哥利先生在家中收藏品中發現,向母親問個究竟時母親為它命名為 "Ananda Tandav" 意為喜樂之舞,並說每位練習者都應在家有一幅,好帶來喜樂與愛。要知更多來龍去脈,請看霎哈嘉瑜伽中文通訊第14期專輯 (2005年5月號)
(回主頁) 靈量喚喜網 -- 香港霎哈嘉瑜伽士集體記憶
(HOME) Joy of Kundalini Awakening- Memories of Hongkong yogis