China Vision
2005/3/9
Shri Mataji:
"I have left my heart in China" - China map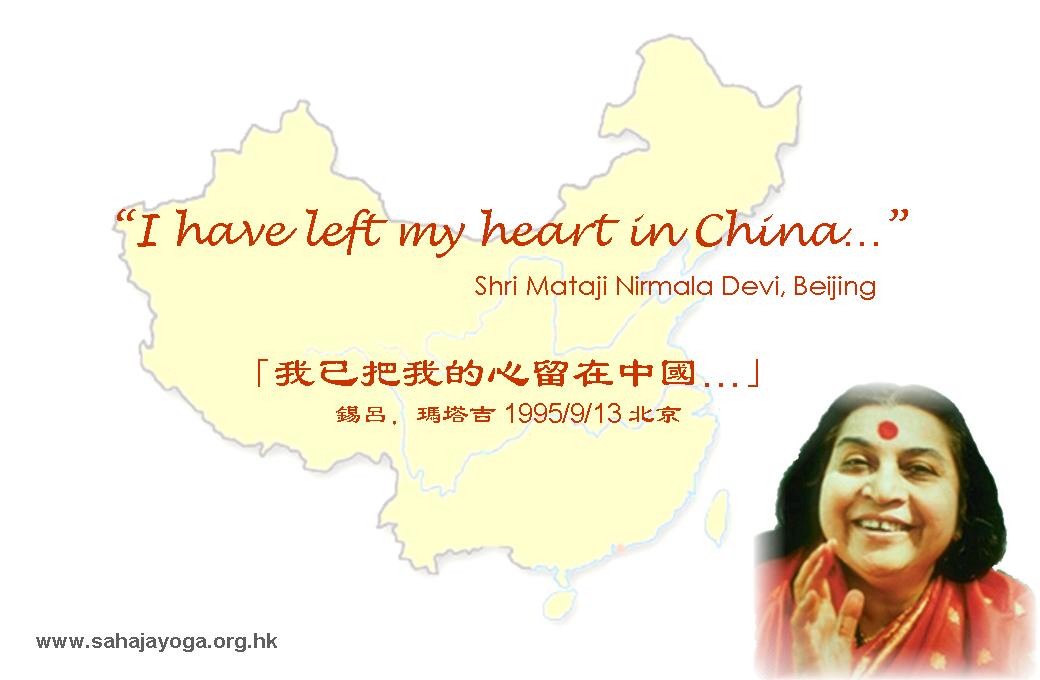 http://www.kundalini.org.hk/sychinese/images/GaneshaPj_gift_back.jpg

(background info / 此圖背景資料:)http://www.kundalini.org.hk/sychinese/pics.htm#pgift04_Ganesha
2005/3/6 email
Re: SYs in China and website links
c.c. Ioana, Julian , Lat, KM Lim, Greg Turek
Dear Haritha
Thank you for your attention and kind concern. Your vision is just the same as us here in Hong Kong. Working out China is Mother's desire and vision, so it should also be our goal.
Let me share with you a short story which I once have the urge to share with Ioana and our brothers and sisters around the world, but eventually keep it inside until now. A few years ago in 1998 I visited the Malaysian Sahaja Yoga Collective with the strong hope to learn from them and see what I could bring back. Things were so spontaneous and amazingly smooth and beautiful to work out and I was lucky enough by Mother's grace to be taken to several collective meetings of different towns: KL, Malacca, and then the South in Johor, Mur, and even down to Singapore, just in one week . It was inspiring to know that some Malaysian Chinese, especially at the south of the country, do not read English at all and need to rely on the Chinese Material that Hong kong sent up ( though maybe now situation a bit different). On the return flight I was so touched by the divine plan to see all these, and see Mother's plan on foreign Chinese – and tears just dropped slowly. Then at that moment I suddenly got the inspiration from Bruce Lee- the Kung Fu star.
Bruce Lee was an American Chinese of San Francisco, USA. When he grew up he wanted to get in Hollywood, but due to various reasons ( one of those was racial discrimination) he could only act minor roles on TV (even need to wear an eye mask in the "Green Bonnet"). Then he thought, " If I cannot get in from the front door, I will get from the back door." So he returned to Hongkong. Right on the day he step out at the hk airport he was already received as a star, and within a few years he became a super-star all over Asia and Hollywood invited him back.
So, if we could not work out China directly ( Mother reminded us to keep activities there low key, when She was in Beijing 95), we could first all concentrate on all ethic Chinese people all over the world.
This ground work is now not only being carried out just in hk, but i think we should also count Taiwan, Malaysia and Singapore. For example now there are already 6 or 7 Malaysian children in Dharamsala Sahaja Yoga school, all with Chinese blood. If we can cross the "critical mass" ( the Hundreth Monkey Principal as mentioned in "A Seeker's Journey") with the help of more countries, especially from the virata of vishudhi (Canada and USA), the goal will not be far away.
If any one needs Chinese leaflets or books, simply send us your request and postal address and visit our web site www.sahajayoga.org.hk to throw your attention on this common vision – of course your bandhan and prayer is important.
Remember Shri Mataji once said, " I have left my heart in China" (Beijing, 1995) see: http://www.angelfire.com/retro/hksahajayogi/Mataji_china_pic.htm
JAY SHRI MATAJI
edwin
---
---

Julian wrote:
Unfortunately, we don't have any pamphlets here - HK is the centre for Chinese publications - I've cc'ed Edwin on this email, as he will be in a better position to help you.

 

Jai Sri Mataji!

Julian


Haritha wrote:

JSM

I live in Lexington, KY, USA. Here there are so many Chinese people so I thought I should do something. Recently we started here a small collectivity. And one of my friends, who are Chinese, got realization and he is interested and he wants Chinese website. And if you have any pamphlets in china language please send me I will put in the Notice Boards, if they don't come to sahaj is ok but they will come to know that there is sahajayoga.

Ask everybody's attention to solve spreading problem in china give in divine groups everything will be worked out.

Jai Shri Mathaji

Haritha

 



Julian wrote:

Hi Haritha!

 

I live with my wife and baby boy in Shanghai. Your email made my heart jump with the joy of hope! We are very few yogis in China, approximately 6 in the whole of the mainland - 3 in Shanghai, 1 in Beijing, 1 in Tianjin and 1 in Guangdong - of those 3 are Chinese. Please let me know what help you need, we are always praying that Mother will bring us more yogis to help spread Her message in this vast country - the Government has outlawed 'public meetings of a religious nature' involving Chinese, so we have to be careful with our work, but we do have one weekly meeting in Shanghai.

 

As far as websites are concerned, these are coordinated from Hong Kong, where there are about 50 established yogis.

 

Please check:

 

I look forward to hearing from you.

 

Jai Sri Mataji!

 

Julian